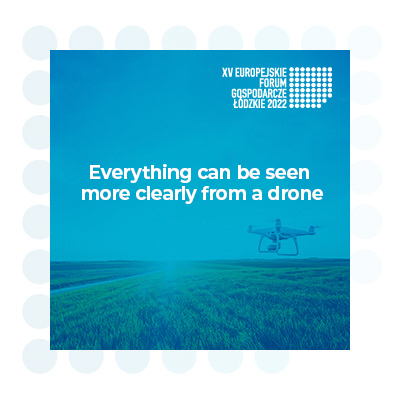 Everything can be seen more clearly from a drone!
2022.11.07
Without a doubt, unmanned flying devices offer countless interesting applications, for example simple deliveries, when you pick up an item at your doorstep a few minutes after buying it, but also life-saving activities – such as searching for the injured in disasters or transporting blood for transfusions. However, there are drone solutions deployed on a much larger scale. These include drone swarms monitoring high-voltage transmission lines, assisting security services in extensive industrial areas, or patrolling national borders. There are thousands of applications for drones, and this means one thing – you can do an excellent business on them!
On the very first day of #efglodzkie2022, an entire panel discussion will be dedicated to drones, offering a possibility to talk about non-obvious uses of drones and jointly look for business opportunities related to them. The international line-up of the panel and the wide range of industries guarantee a top-level discussion.
« back