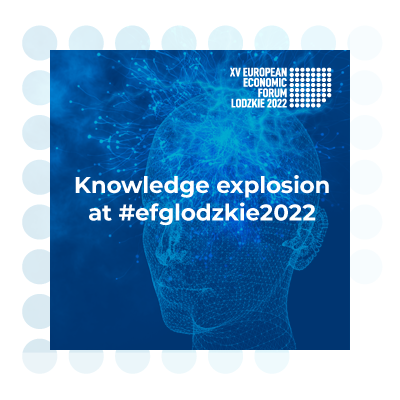 Knowledge explosion at #efglodzkie2022
2022.11.21
Every year, the European Economic Forum surprises and provides a huge load of knowledge. And this time, it will be no different! The first day will open under the banner of "Leader, Team, Synergy". We will enter the world of new technologies, raise issues of management in the sports business, and learn about the role of the leader in achieving goals.
The second day will offer an opportunity to look – alongside distinguished guests from the European Parliament and the European Conservatives and Reformists Group – "Together into the future of Europe". We will discuss how the labour market has changed as a result of the Russian aggression against Ukraine, what we can do to survive in this difficult time and how our neighbours' conflict has affected Polish businesses. This day will culminate in the Lodzkie Region Economic Award Gala "Biznes na PLUS", with distinctions presented to the finest companies.
The third and final day of the "Innovative Lodzkie" will focus on the Lodzkie region. We will debate the export of goods and services to the furthest corners of the world, but also topics of the here and now, i.e. the activation of senior citizens or business management in times of crisis.
Join us at #efglodzkie2022 and see for yourself it's worth it!
« back